Outstanding Shares
12,494,617
Restricted
6,244,745
Unrestricted
6,249,872
Held at DTC
6,137,650
Float
5,680,205
GLUCODOWN Expands Distribution Into
CVS Pharmacies.
GLUCODOWN® – America's premier diabetic nutritional
beverage – will be available at CVS pharmacies beginning this
summer. In keeping with CVS's long-standing commitment to
improving the health and well- being of its diabetic and pre-
diabetic customers, CVS is updating and expanding the
diabetic care section at many of its pharmacies. The
expanded section will feature a specially curated selection of
the finest products serving diabetic and pre-diabetic persons.
All four nutritious and delicious GLUCODOWN® flavors –
Peach, Lemon, Raspberry and Super Berry – will be stocked in
CVS's expanded diabetic care section
Glucose Health, Inc. is the manufacturer of GlucoDown nutritional
beverage supplements. GlucoDown Iced Tea, Cappuccino and
Horchata (traditional drink of Mexico) mixes are enriched with
macronutrients and micronutrients which clinical data indicates,
may help maintain healthy blood sugar, triglyceride and cholesterol
levels, plus regular digestive health. GlucoDown products are
available in-store at Walmart pharmacies nationwide, Walmart.com
and Amazon.

Make the commitment to a better future by living healthier today with GlucoDown®. A
daily commitment to even a modestly more active lifestyle, better nutrition and normal
body weight and composition, is key to maintaining healthy blood sugar, triglycerides,
cholesterol and regular digestive health. The special soluble fiber in the GlucoDown®
formula may help slow your body's absorption of dietary sugars; moderate after-meal
increases in glucose levels and maintain regular digestive health. The GlucoDown®
formula also includes vitamins, minerals and the plant extract Banaba Leaf.
The GLUC Report : Market insight into Glucose Health Inc. (OTC: GLUC
)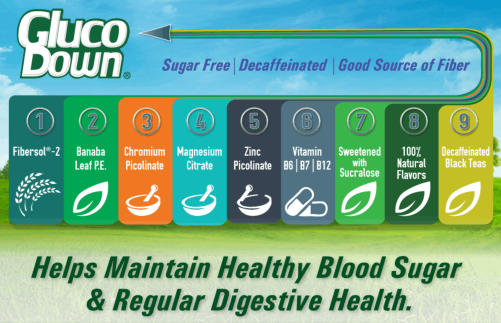 This Company Has Recently Achieved
Incredible Sales Growth
Topping More Than 1,000% on Internet Retail
Giant Amazon
It isn't often that you see headline news of

record sales on
Amazon that exceed 1,000 percent

for a relatively new and
unfamiliar consumer product.
But that is exactly what is happening for one small company,
who's revolutionary and innovative diabetic products continue
to experience tremendous demand from consumers.
This company now has everything that it needs to make it an
extremely attractive candidate for micro-cap investing.
Finding Life After Celsius: Here's How We
Are Investing In The Hottest New Functional Beverage
Trend With Glucose Health, Inc.
The Functional Beverage category has experienced tremendous
growth over the past 10 years.
The underlying macro-trends of obesity and Type-2 diabetes
create a unique investment opportunity for long-term investors to
capitalize on this growing global epidemic.
Glucose Health, Inc. offers investors a "pure play" in the sense
that its revenue stream comes entirely from sales of its
Glucodown products.
Recent increases in monthly sales through Amazon in June & July
2020 showed increases of 1,048% and 1,284% respectively. The
company's Q2 revenues were up 186% year-over-year.
The signing of a nationwide distribution contract with CVS Health,
along with placement in long-time partner Walmart's 1,800
pharmacies, gives GLUC a solid base from which to continue to
build and grow.